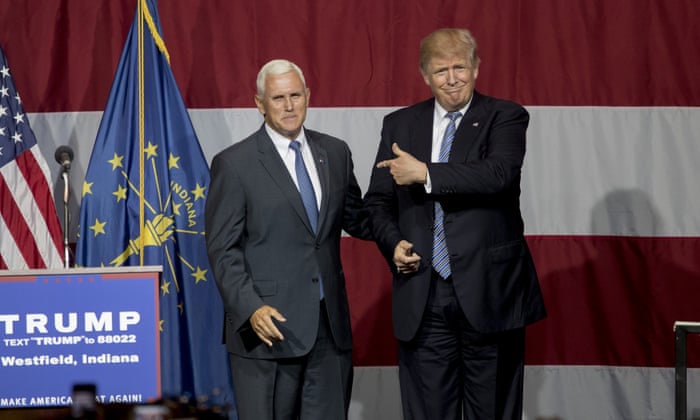 Vice President Mike Pence and President Donald J. Trump .
DONALD J. TRUMP
Born: June 14, 1946 in New York, NY.
Personal Life: Married Ivana ZelnicekTrump ,1977-1990 (divorced); Married Marla Maples Trump, 1993-1999 (divorced); Married Melania KnaussTrump, 2005-present. Children: Donald, Jr., Ivanka, Eric, Tiffany and Barron.
Education: Fordham University; 1964-66; University of Pennsylvania, Wharton School of Finance, B.S. in Economics, 1968.
Elected Office: President of the United States, 2017-present. Trump is the first president who has never held elected office, a top government post or a military rank.
Books Authored: "Trump: The Art of the Deal," 1987; Trump 101: The Way to Success, 2007; Never Give Up: How I Turned My Biggest Challenges Into Success, 2008.
Religion: Presbyterian.
MIKE PENCE
Born: June 7, 1959 in Columbus, IN.
Personal Life: Married Karen Batten Pence, 1985-present. Children: Michael, Charlotte and Audrey
Education: Hanover College (Indiana), B.A., 1981; Indiana University School of Law, J.D., 1986
Elected Office: US House of Representatives for the 2nd District of Indiana, 2002; Governor of Indiana, 2012-17, Vice President of the U.S., 2017-present.
Religion: Evangelical Christian